Updated 09 November 2011 / Added 05 July 2008
---
The Dawg Flight McCauley Beach Pig Roast photos below were taken mid-March 1971 by Loyd Harris (CMSgt. USAF, retired). The trip was sponsored by CMSgt. Loyd "Gus" Harris, Dawg Flight's Mission Supervisor and transportation was provided by Shulinkou AS Personnel Services "Devil Dog" logo buses. The Pig-Roast was attended by many and everyone had a great time. This was the last McCauley Beach pig-roast for several very "short" Dawgs who left the island a few weeks later.
Please send us an email (click here) for any corrections, additions or comments...or to send us your photos.
---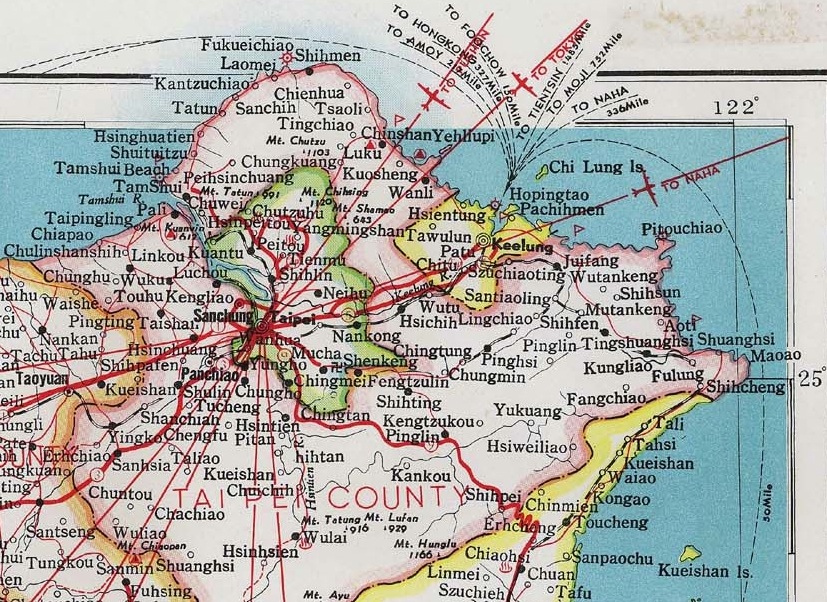 (Click on Map to Enlarge)
1971 Map of Taiwan, Nan Hua Publishing Co, Ltd., Taipei
&nbsp McCauley Beach was located on the northeastern tip of Taiwan, about 20 miles northeast of Taipei and a few miles northwest of the seaport of Keelung, between the northern coastal towns of Chinshan and Wanli. McCauley Beach is referenced on the map with a small red triangle adjacent to the village of Kuonsheng. ("Google Earth" coordinates are: 25° 12.639'N and 121° 39.491'E.)
---
(Click to Enlarge) photo by L. Harris
March 1971 shot Dawg 203s Bob "Stuck" Gravenstuk (left) and Mike Rice (right) in their handmade tie-dyed T-shirts
with CMSgt. Loyd "Gus" Harris, Mission Supervisor, (center) at the Dawg Flight McCauley Beach pig roast. Peace brother...
(Click on Photos to Enlarge) March 1971 photos (left & right) by Lentz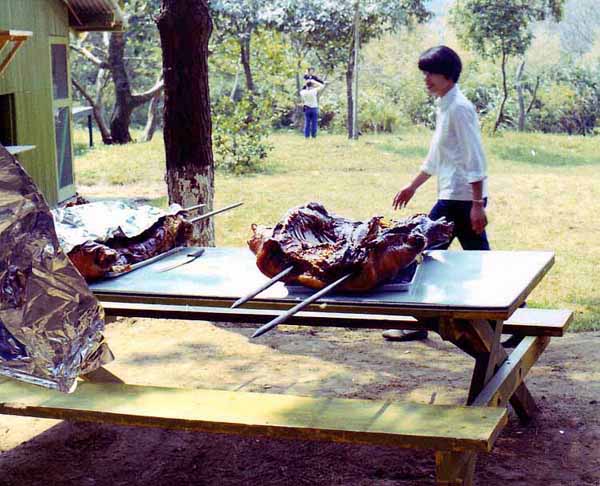 &nbsp Loyd Harris: "Concerning the pig roast (mid-March 1971).....we had to write a letter to the Chinese government requesting that we be allowed to buy a pig for our roast. We had to tell them specifically what we were going to do with the pig. If I remember correctly, we had to pay about $100 (U.S.). The officials only allow a certain number of pigs to be killed on a given day.
&nbsp Remember, in those days they still hung the meat in an open market. When all the pork for the day had been bought, that was it until the next day. They sent us a letter stating they had approved our request. Then, they told us where to pick up the butchered pig (photos below). It was assigned a serial number, and there was considerable paperwork to be signed upon delivery. We had to pick it up just after midnight.
&nbsp We had the Chinese government facility butcher the pig--and we donated all the entralls to the workers, and they were happy to get the freebie...however, we had to pay an additonal fee for the butcher job. We hired some local people to do the actual roasting of the beast. Of course we had plenty of pig left over." [July 5, 2008]

---
Photos by Loyd Harris
(Click on Photos to Enlarge)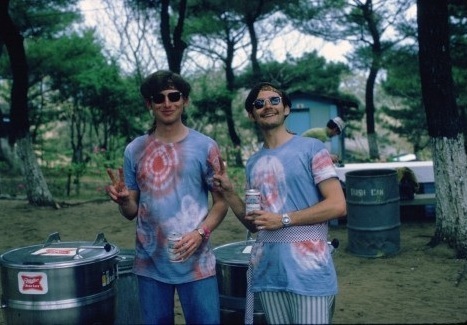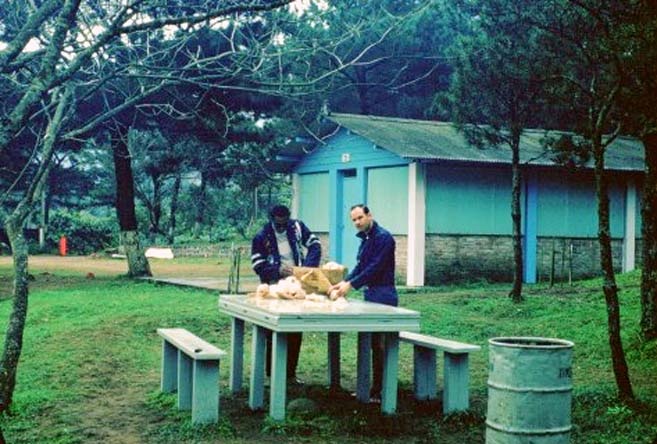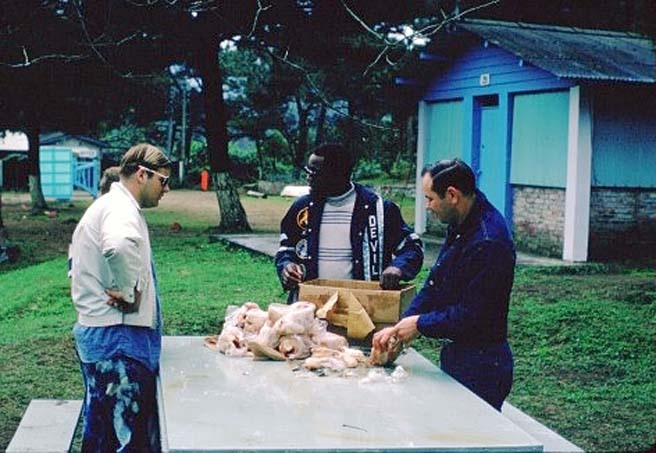 photos by L. Harris
1.) (From left) Mike Rice, Loyd "Gus" Harris, and Bob "Stuck" Gravenstuk. 2.) Dawg 203s Bob Gravenstuk (left) and Mike Rice. 3.) SSgt Sam Dairyko (left) and SSgt Curt Dunn.
4.) (From left) Mike "Mouse" Emerson, Sam Dairyko, and Curt Dunn.