Our second Dawg Flight Reunion took place in Rosslyn, Virginia across the Potomac River from Georgetown and Washington, D.C., and was held over a three-day weekend (Friday to Monday) on June 14, 15, and 16, 1985.

This gathering of Dawgs occurred approximately 15 years after we had all departed Taiwan. Everyone stayed at the Best Western Rosslyn Westpark Hotel in Rosslyn, Virginia. In attendance were 18 Dawgs and their families from all corners of the United States. The photos show the reunion events including arrival at the Westpark Hotel on Friday evening with a reception held at the cocktail lounge on the top floor of the hotel which overlooked D.C., sightseeing in Washington, D.C. on Saturday, a Dawg Flight group dinner Saturday night at the China Garden Restaurant located next to the hotel, and later that night some serious partying into the wee hours of Sunday morning in Nelson "Shaky" Carpenter's hotel room.

This photo series shows Dawg arrival on Friday, June 14, 1985. As everyone arrived the evening of the first day, we met in the cocktail lounge on top of the Westpark Hotel which offered a panoramic view of the Potomac River and the scenic nation's capital. Photos by Carpenter.

Please send us an email (click here) for any corrections, additions or comments.
---
(Click on Photos to Enlarge)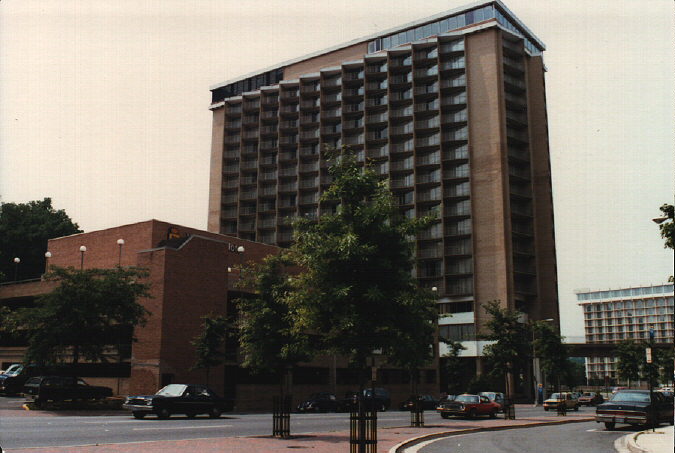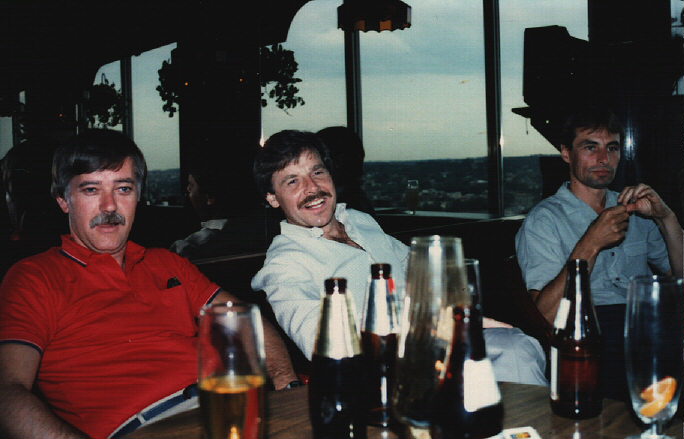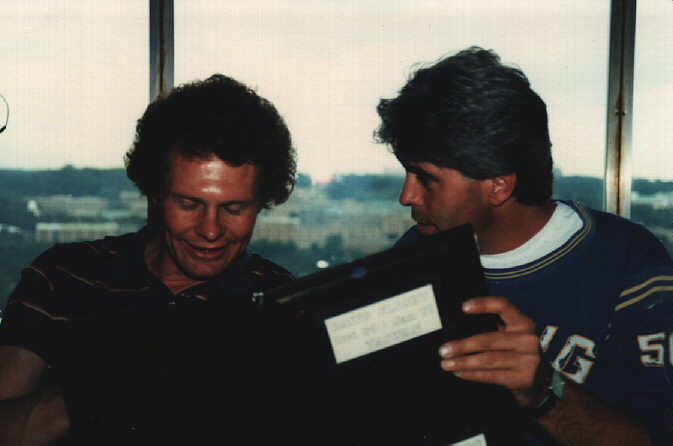 1. The Best Western Westpark Hotel, Rosslyn, Virginia.
2. Swallom, Lentz, and Vandierdonck.
3. Mike Hine and Rich Ferretti looking at the Dawg Flight photo album.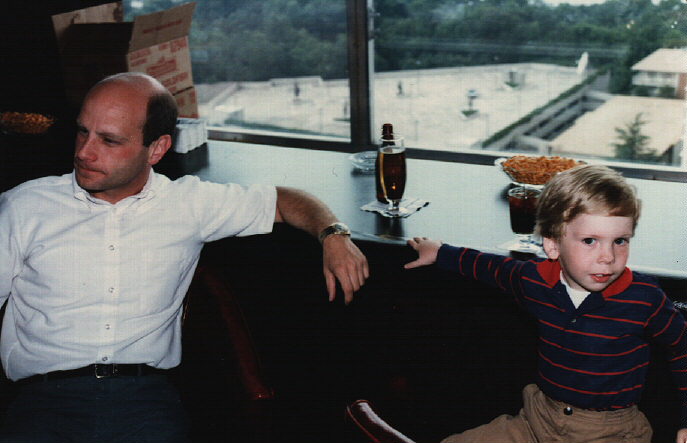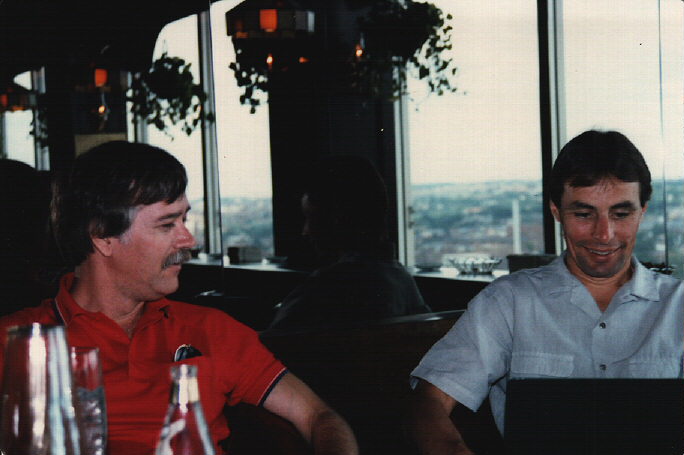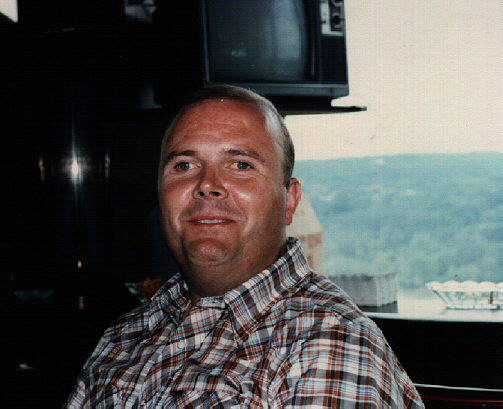 1. Roman "Ok" Okrei (IL) and son.
2. Steve "Pig Body" Swallom and Dave "Doink" Vandierdonck.
3. Russ "Crazy Russ" Hanegan (IL) enjoying himself and glad he made the trip to the reunion.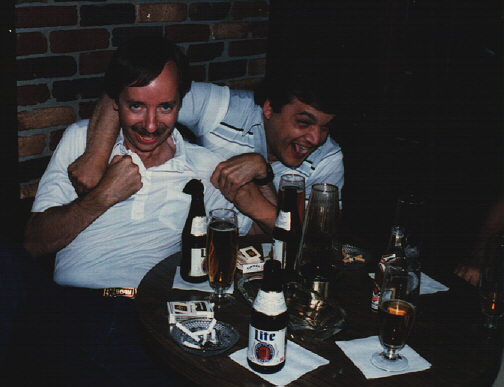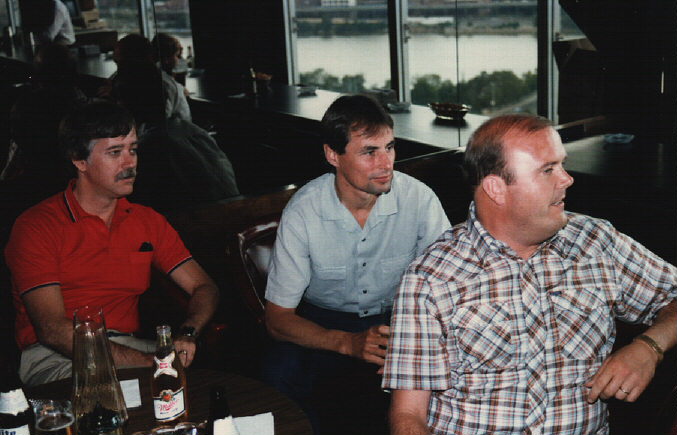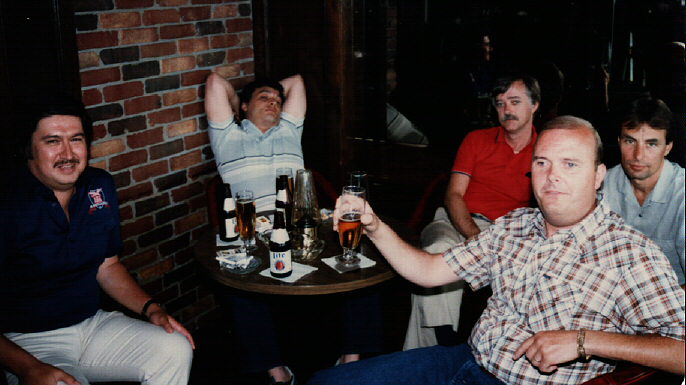 1. Nelson "Shaky" Carpenter (NE) and John Savino (CT). Two old buddies who ran town hard together. At issue was which one had to look out for the other while running the streets of Taipei.
2. Swallom, Vandierdonck, and Hanegan.
3. Chuck "Sugar Bear" Castillo (CA), Savino, Swallom, Vandierdonck, and Hanegan.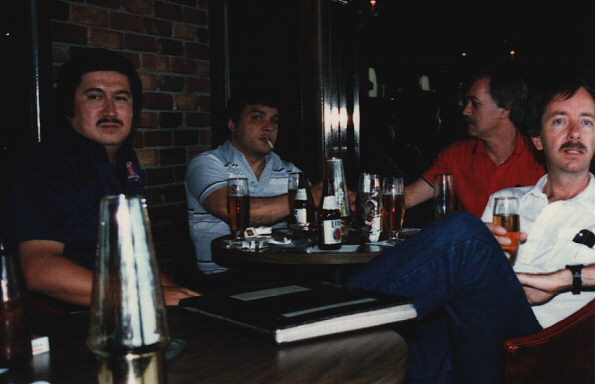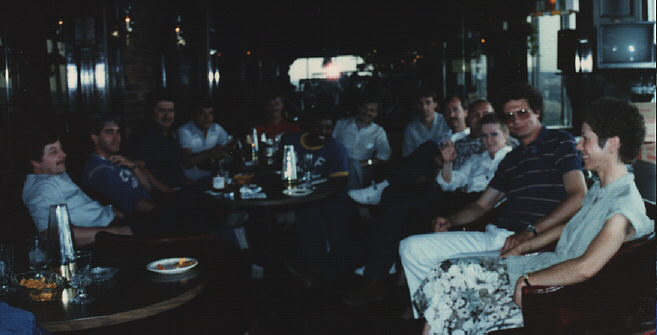 (Click on Photos to Enlarge)
1. Castillo, Savino, Swallom, and Carpenter.
2. From the left: Tim Kerekes, Rich Ferretti, Chuck Castillo, John Savino, Steve Swallom, Ted Johnson, Roger Lentz, Dave Vandierdonck, Nelson Carpenter, Russ Hanegan, and Mike Hine.
---