Travels By The Phantom - 1970s
---
Updated 07 September 2011 / Added 02 February 2004
---
Traveling the country after his discharge from the Air Force in January 1971, THE PHANTOM dropped-in on several of his Dawg Flight buddies from Massachusetts to California. As shown in the photos the Dawgs had done a good job of letting their hair and mustaches grow as civilians. These photos are from 35mm slides that The Phantom had stashed away.
---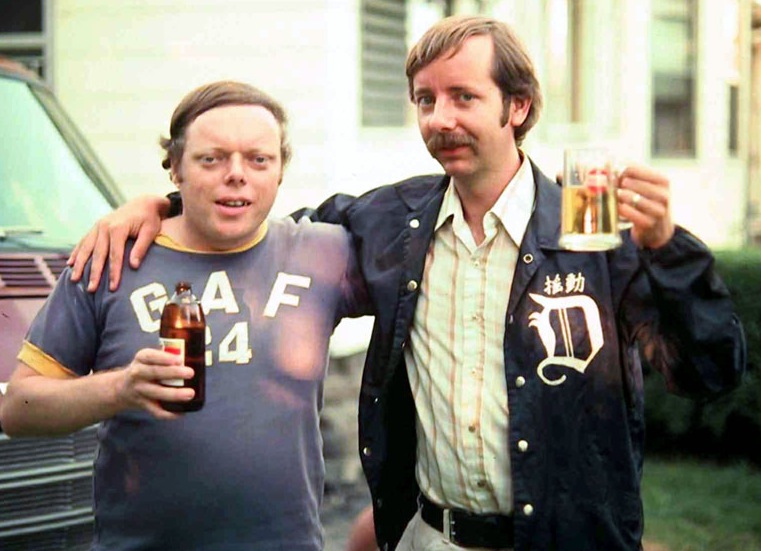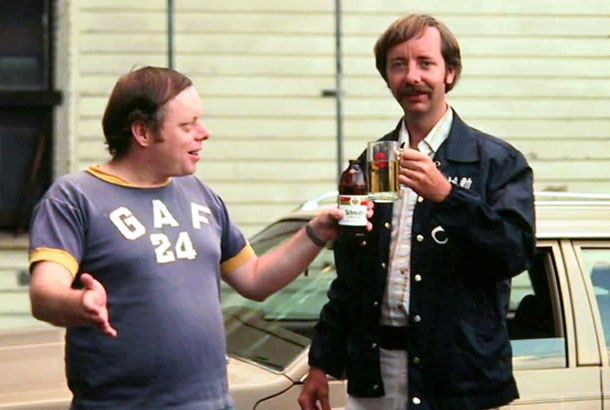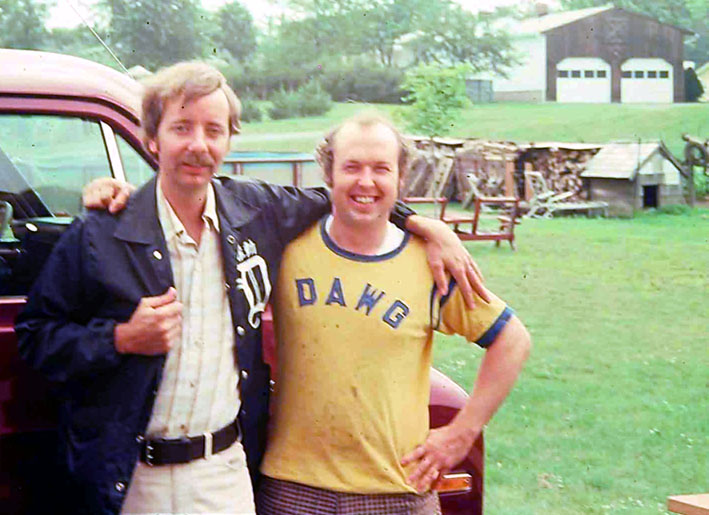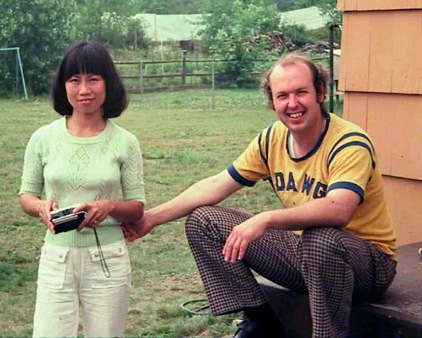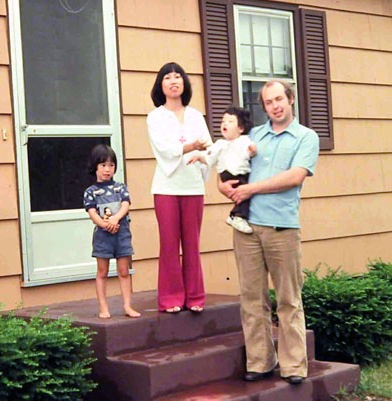 Photos by THE PHANTOM &nbsp (Click on Photos to Enlarge)

1. Here's Shaky meeting up with "Baloney" Brady in Watertown, Connecticut in 1977. "Baloney" is proudly wearing his Dawg Flight "GAF" jersey..."Go Air Force"...?

2. Toasting to "Malaysia" as they did in the Prince Club, San Fran Club, Monte Carlo Club, China Night Club, California Club, Linkou Club.......

3. Dave "Hondo" Rauh was living in his hometown of Ludlow, Mass when I met up with him in 1977...one of my many close Dawg buddies.

4. Brenda and Dave Rauh.

5. Dave Rauh and his family outside his house.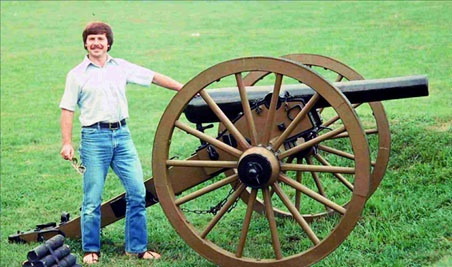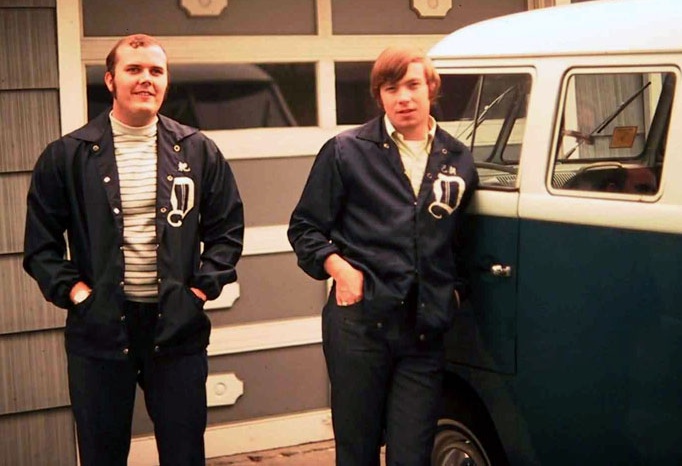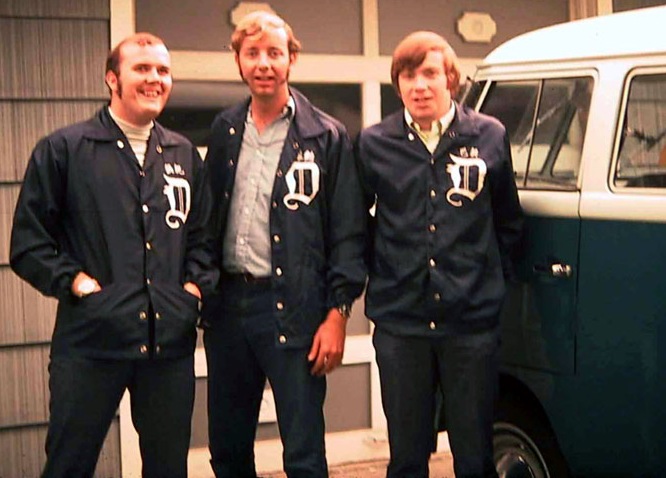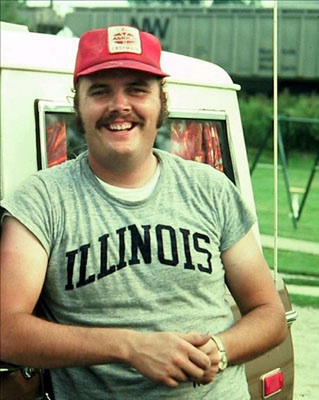 Photos by THE PHANTOM &nbsp (Click on Photos to Enlarge)
1. Leaning on his 1963 Split Window Chevrolet Corvette is Dave "Doink" Vandierdonck in 1975. Dave was a firefighter for the Harper Woods, Mich fire department.
2. 1975 shot of "SSgt" Lentz during our tour of the Gettysburg battlefield.
3. An earlier reunion in late 1971. Both Russ "Crazy Russ" Hanegan and Floyd "Nice Butch" Kester were from the same town of Danville, Ill. Here they are next to Butch's VW Bus. I was on my return from Milledgeville, Georgia where I just completed a surveying project.
4. The three of us looking as sharp as we did when walking the streets of Taipei in our Dawg jackets just a year earlier in 1970.
5. 1975 shot of Russ Hanegan in Champaign, Ill.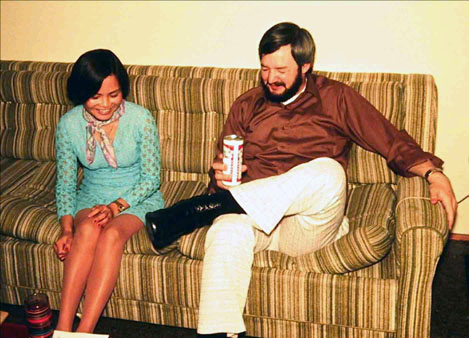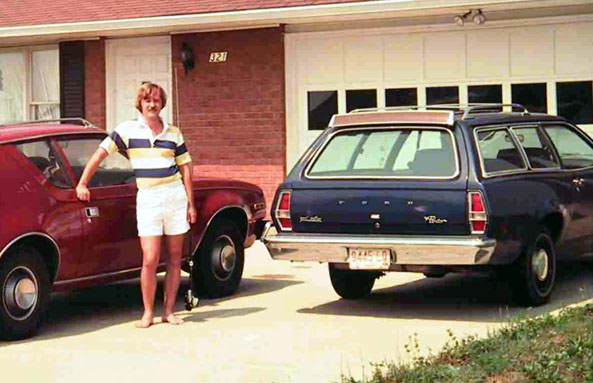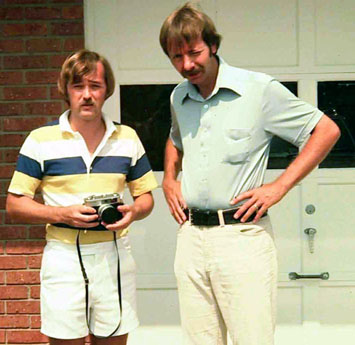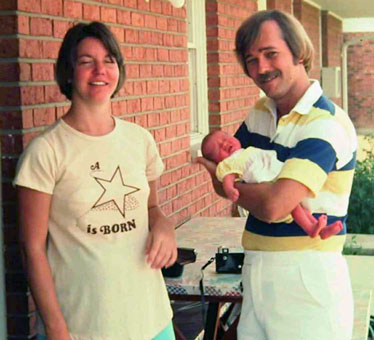 Photos by THE PHANTOM &nbsp (Click on Photos to Enlarge)
1. Cho and Al Brewer were living in Los Angeles area when I found them in 1976. Al was concerned that "The Phantom...." was still trying to get some stuff on him for the "Mid Rag Screamer" sheet. I did my best to convince him that I no longer had access to multi-ply paper, nor the machine to knock out the screamer.
2. Steve "Pig-Body" Swallom was also suprised to find "The Phantom...." standing outside his house in Franklin, Ohio in 1977. Steve and Shaky had spent most of their short 3 years and 8 month Air Force career together including 202 Tech School at Goodfellow AFB, tours to the PI and Taiwan, and discharged at McCord AFB in Washington state on January 10, 1971.
3. Steve and Shaky.
4. The day before I arrived for a short two hour visit Steve's wife had just given birth to their daughter.
---