Dawg Flight Reunion 1980 in Joliet, Illinois
Part 2 of 4 - Photo Series
---
Updated 4 March 2001
---
Our first Dawg Flight Reunion took place in July 1980 at the Holiday Inn in Joliet, Illinois, located in the outskirts of Chicago. This was approximately 10 years after we departed Taiwan. Our host was Roman "Ok" Okrei. In attendance were 24 Dawgs and family from all corners of the states. There are shots of pickup at O'Hara airport, arrival at the Holiday Inn, partying, Dawg Flight group photo, dinner at a Chinese resturant, and the infamous East-West softball game, which the West won and the East disputed...! A barbeque at Okrei's house concluded our great reunion.

&nbsp &nbsp &nbsp &nbsp This series shows the picnic at Okrei's house and the softball game. There are 14 photos. Click on the photos to enlarge.
---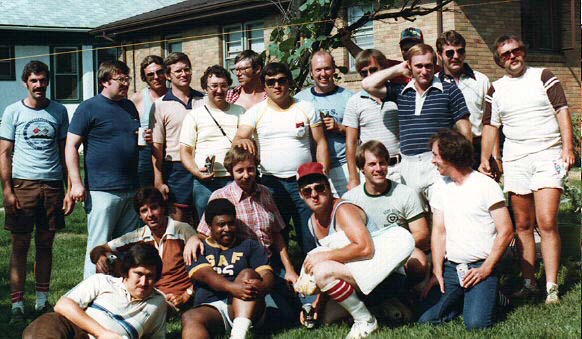 (Click on Photo to Enlarge)
DAWG FLIGHT 1980
Standing left to right: Max Wagner (KY), Butch "Dirty Butch" Kester (IL), John "JB" Davis (MD), Ray (GA), Ray "Ratso" Badolato (LA), Jack "Jukebox" Brown (IA), John Savino (CT), Dave "Hondo" Rauh (MA), Steve "Pig-body" Swallom (KY), Al "Dirty Al" Brewer (CA), John "Johnny" Parker (TX), Tim "Timmy Two-shoes" Kerekes (MI), and Mike "Mick" Perhach (PA). Front row left to right: Chuck "Sugar Bear" Castillo (CA), Mike "Givemaway" McGee (CA), Ted "Teddy Bear" Johnson (MD), Nelson "Shaky" Carpenter (NE), Tom "Lips" Lippert (KY), Fred "Wheatgerm" Hayfield (PA), and Mike "Indian" Romines (KS). Missing in action Dave "Doink" Vandierdonck (MI).
(Click on Photos to Enlarge)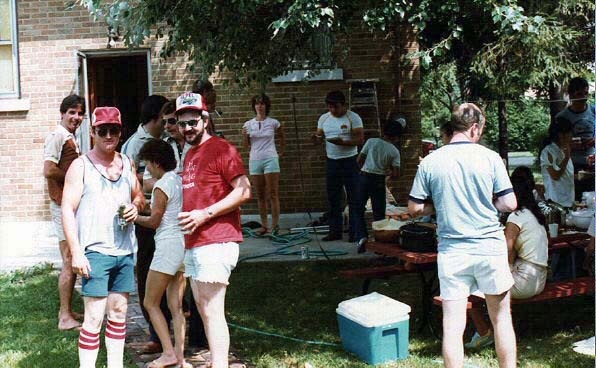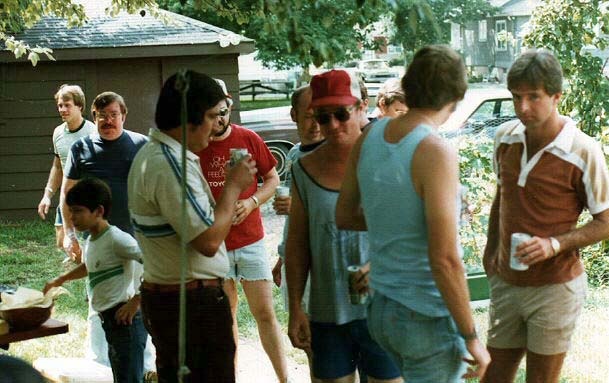 >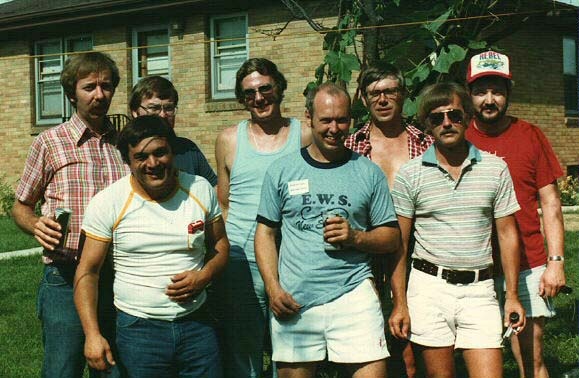 1. McGee, Parker, and Brewer with Rauh back to the camera.
2. Showing up for the picnic in Roman's backyard.
3. "Shaky", Savino, "Dirty Butch", "JB", "Hondo", "Jukebox", "Pig-body", and "Dirty Al".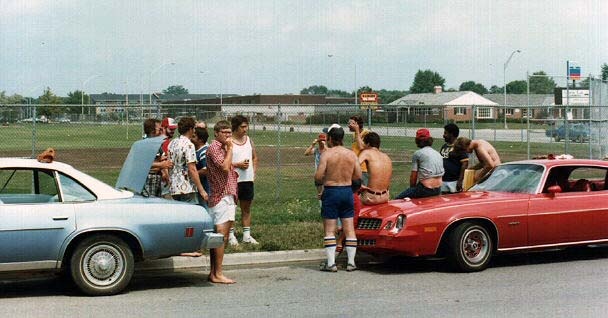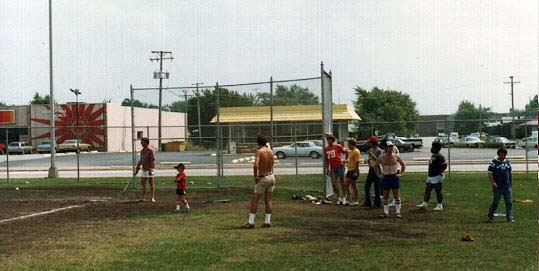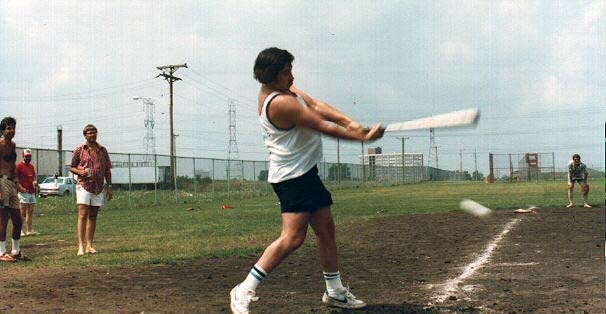 1. Dawg Flight arriving at the local ball field for the infamous East-West softball game.
2. Choosing teams.
3. Base hit by "Sugar Bear" playing for the powerful West team.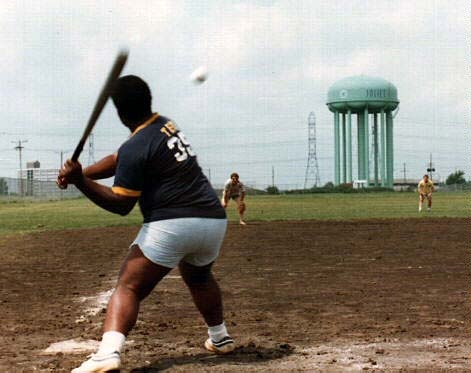 1. "Dirty Butch" rounding second base on his way home for another West run.
2. Max catching with "Givemaway" at bat.
3. "Dirty Butch" cleaning mud clogged glasses that he reasoned was why he missed the pop up. "Dirty Al" refuses to buy it.
4. "Teddy Bear" about to hit a slammer for the Big East.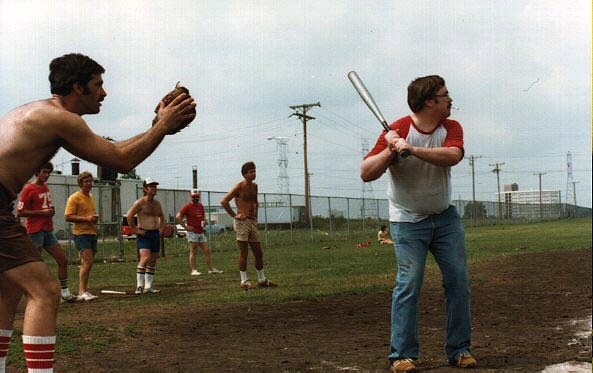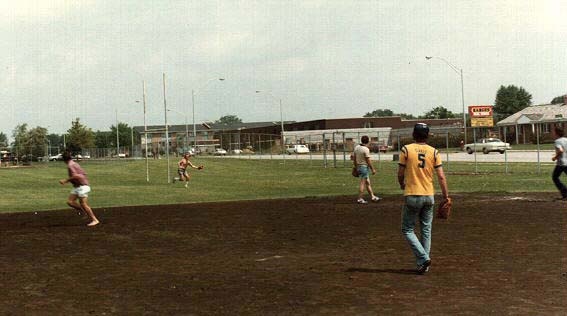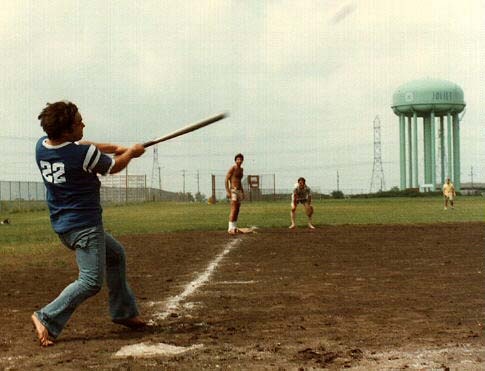 (Click on Photos to Enlarge)
1. Max catching as "Dirty Butch" is ready at bat and "Doink" is still missing in action.
2. Fly ball into Big East's right field. Notice how alert the fielders were that day.
3. Savino drives one to the center field.
---